19. October 2012
Autumn Holyday Sale
Right in time for the beginning of the cold season we offer a solid 40% discount on all Classics Hangar products.
The offer is valid until Monday, 22.10.2012.
Note the Fw190A Compilation CD-ROM ships within europe only.
5. August 2012
Current Projects
The Classics Hangar is currently working on the third and final edition of the Fw190 trilogy.
This last version of the legendary German fighter includes variants of the Fw190D "Dora" and the high altitude fighter Ta152H.
Get more details and view progress screenshots in our preview forum.
17. October 2011
Me 108 Taifun Review
The German FS Magazin took our 'Taifun' out for an in depth check ride in it's issue 5/2011. Conclusion:
" A sporty little Oldtimer that fully convinces both aeronautically and in it's detail richness.
Predicate: precious!"
You can read the German language review here with kind permission by FS Magazin.

16. October 2011
Messerschmitt 108 SP 1 released!
Service Pack 1 includes, apart from a few minor bugfixes and cosmetic texture improvements, a number of new features and functions:
The pilot now has company in the cockpit. New passenger figures on all seats are visible in exterior view, configurable using a new manager interface. The new real time manager provides quick access to fuel and payloads and to a number of commonly used simulation commands.
In preparation for the comming cold season there is now a visible and audible preheating aggregate available that facilitates engine cold start and helps avoiding engine wear.
For a complete description of all features please visit the product pages and read the updated user manual.
Existing customers can redownload and reinstall the product at no cost at their vendor's website.
6. June 2011
Messerschmitt Bf 108 Taifun released
We are proud to announce the release of our latest creation, the iconic German touring plane of the 1930th, recreated to Classics Hangar's award-winning detail for Microsoft Flight Simulator X.
29. April 2011
Messerschmitt Bf 108 Taifun
We will soon release our latest creation , the Messerschmitt Bf108 Taifun for FSX.
See some screenshots of the upcoming release at the preview pages.
24. December 2010
Fw190A Engine Sound Update
This update adresses an issue that has been reported by users that causes the engine sounds to hang at a high rpm sound when switching from cockpit view to external view and vice versa.
It also adds the FSX sound cone technology to the Fw190 engine sounds.
The update can be obtained by clicking at the "check for updates" link in your start menu/classics hangar folder, respectively the Flight1/Classics Hangar folder if you own the compilation.
There are separate update file each for Early Variants, Late Variants and the CD/Download Compilation.
26. October 2010
Fw190A CD-Edition now available!
We are proud to announce the release of the Fw190A CD edition in cooperation with Flight1!
The CD includes a selection of the most important variants of our award-winning Fw190A early and late variants packages.
Depicted are the variants A-3, A-4, A-5, A-8 and A-9 with a total of 21 historical paint schemes.

Now available at the Classics Hangar!
7. September 2010
Classics Hangar is two years old now!
By September 2008 we began developement of accurately researched flight simulator addons. We'd like to take the opportunity to thank all our customers and partners who have supported us.
To celebrate our anniversary we offer a 30% discount on all Classics Hangar products during all of September 2010.

1. September 2010
The Classics Hangar has moved house!
Please check the imprint link at the header to gather our new postal adress and support telephone number.
10. April 2010
Fw 190 A, The Early Variants Version 2.0
We have entirely reworked our Fw 190 A, The Early Variants to bring it up to the standard of our award-winning Fw 190 A, The Late Variants package.
Check the product pages for details.
If you have previously purchased Fw 190 A, The Early Variants, you can upgrade to Version 2.0 at no cost. Just re-download the package from the shop. Don't forget to check the system requirements!
9. February 2010
Two more Reviews honor our Fw190A late variants with Gold Awards:
The German language Internet portal Flusipilot and the February-issue of the print magazine Flight Xpress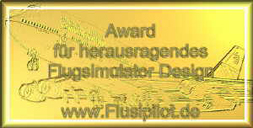 27. January 2010
Avsim Review "Fw 190 A, the late variants"
Avsim's Senior Staff Reviewer David Wilson-Okamura took a close look at our Fw190A.
Read his review that earned us an Avsim Gold Star Award here: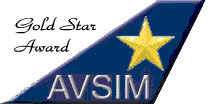 Credit Card Payment temprorarily Offline
Due to extensive changes in the systems of our credit card service provider we are currently unable to accept credit card payment. We are working on it to bring the service back online as soon as possible.
We apologize for the inconvenience.